Leadership Award Presented to Fabio Moraes
Congratulations to UTDRO's Chief Fellow, Fabio Moraes, on being presented with the Postgraduate Medical Trainee Leadership Award by the Postgraduate Medical Education Department.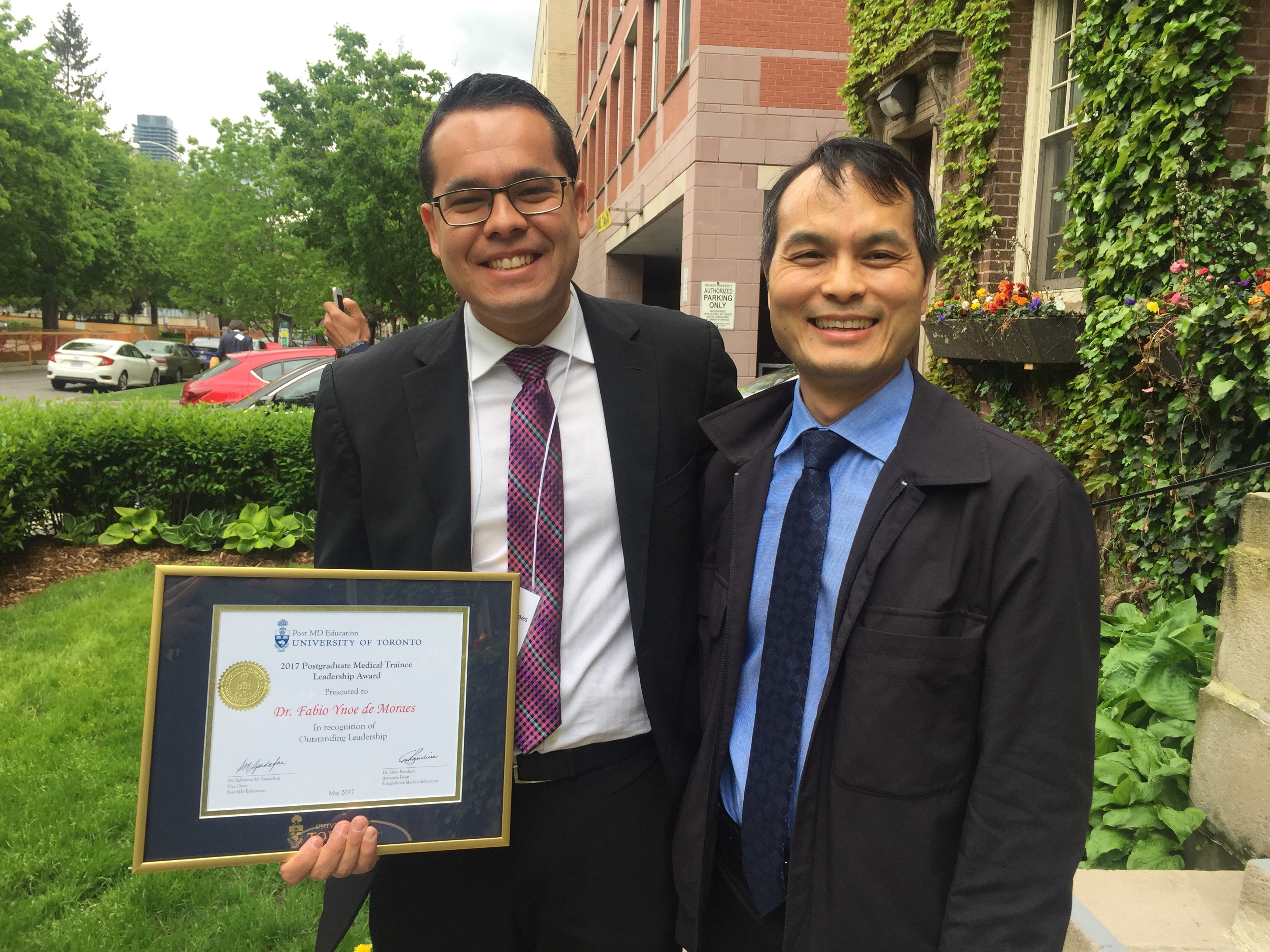 This award recognizes trainees who have made positive contributions in one of the following areas: Leadership; Excellence in teaching; Cultural competency, or Diversity advocacy. This award is the second major recognition for Fabio, who was also recognized as a Young Leader by UICC.
"I am honoured to receieve this award," Fabio said. "I have to credit my training in Brazil and Canada for helping me achieve this milestone. As chief of my residency and fellowship programs in Brazil, I was presented with unique leadership, education and teaching opportunities. Similarly, at Princess Margaret, I have exposure to new opportunities. Thanks to UICC, I have had the opportunity to work with many senior leaders around the world."
Fabio also credits his CNS team at Princess Maragaret and several mentors at UICC for helping him gain invaluable experience. During his fellowship at UTDRO, Fabio was the lead author on a high impact project and publication related to the challenges and opportunities in the field of radiation oncology in Brazil. During this project, he assessed and mapped radiation oncology facilities and cancer care needs in Brazil. As a UICC Young Leader on the Global Consultation on Cancer Staging, he also assessed the role of young leaders on cancer care globally.
Dr. Peter Chung, Director of the Fellowhip program, endorsed Fabio's award. "Fabio is throughly  deserving of this award as he has demonstrated excellent leadership qualities with his work internally and externally," Peter commented. "He has shown an active interest in mentoring his peers and aiding their development of leadership skills."
We wish Fabio congratulations and best wishes as he begins a Master's Degree in Neuro-Oncology at the Institute of Medical Science.